International Open Data Day – Saturday, 2 March 2019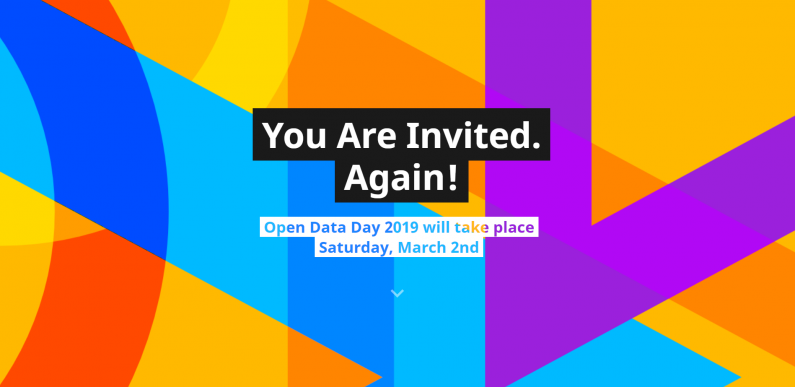 Data.govt.nz are proud to be a part of this year's Open Data Day.
We'll be holding a 'mini-hackathon' at the National Library of New Zealand's net.work space on Saturday, 2 March 2019.
Register for Open Data Day Wellington
More information about Open Data Day events in NZ
What is Open Data Day?
It's an annual, global celebration of open data. This year will be the ninth time groups around the world come together to take part in local events where they use open data in and for their communities, to solve local challenges, explore exciting opportunities and more.
And everything created is for anyone to use and re-use.
If you'd like to come up with some ideas before the event, have a look at the resources on the Open Data Day website, or check out the data catalogue here on data.govt.nz. The Open Data Charter has also released their 2019 strategy, which focuses on some specific challenge areas this year.
Bringing power into the open – Open Data Charter 2019 strategy
Last held in Wellington in 2017, the event was a great success – you can read more about it in the articles below.
Rapid prototyping with environmental datasets – International Open Data Day 2017
International Open Data Day: Wellington (GovWorks NZ)
Who is it for?
No matter what your skill-sets or interests, this is an event where your input is valued; whether you have an idea for using open data, want to contribute to an interesting project, learn about how to work with or visualise data, or simply see what's happening! Citizens, public servants, designer, developers, artists, storytellers - all are welcome.
It's an opportunity to learn from each other, and to help the global open data community grow. All outputs created on the day will be open for everyone to use and re-use.
This is a FREE event - all you need to bring is your own devices and your ideas! We'll provide space, food and Wi-Fi.
Open Data Day is a collaborative event brought to you by data.govt.nz, Open Data NZ (Stats NZ) and the Department of Internal Affairs.